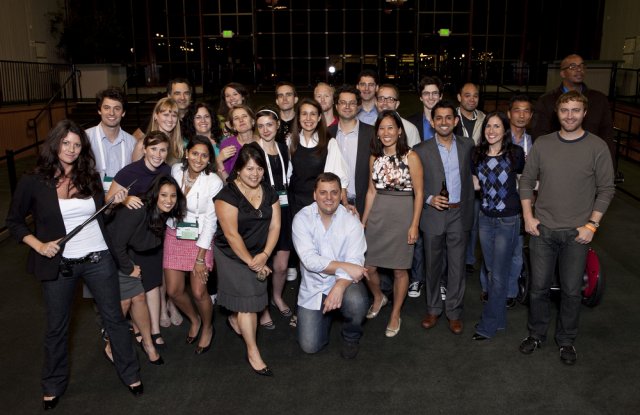 Bhè, c'era da aspettarselo, tempo fa AOL ha acquisito TechCrunch e, a partire dal design ha letterelmente brutalizzato il blog/magazine, tanto che gli ultimi post sono dedicati quasi solo ed esclusivamente a beghe di corte tra TechCruch e la stampa, i lettori, gli investitori, i postini ed i passacarte.
Michael Arrington sempre più irrequieto, segue il suo cursus honorum che prevede giustamente la costituzione di un fondo di investimento grazie al supporto di AOL stessa e di una rete di investitori californiani, riuscendo persino a trovare il tempo di bloccare su Twitter tutti quegli utenti che hanno espresso disagio in seguito al cambio di mano in casa TechCrunch (tra cui anche me, le screen è qui).
Attualmente l'editing staff di TechCrunch usa direttamente il blog per abbandonarsi a post di protesta, chiarificazioni e lamentele varie, il che non è certo lusinghiero per AOL, visti i termini talvolta anche volgari utilizzati, ma sicuramente post di quel tipo non mancano di genuinità.
MG Siegel però, in tutta questa bagarre, dice qualcosa di ammirevole e concreto, dopo aver raccontato ai non addetti ai lavori cosa sta accadendo nel suo blog personale, su TechCrunch pone l'accento su un concetto molto caro al Bel Paese, il conflitto di interessi:
If Mike tried to get me to write some unreasonable post about a company he had invested in, I would laugh at him.
Il problema che si sta ponendo in sede AOL/Techcrunch riguarda il programma di Michael Arrington di diventare un venture capitalist e quindi, dato che la più grande quota in CrunchFund appartiene ad AOL, Arrington potrebbe usare TechCrunch come cassa di risonanza per le aziende in cui il fondo potrebbe investire.
Tutto ciò sottolinea la differenza tra loro e noi.
E prosegue:
But he would never do that. Ask Loic Le Meur. Ask Kevin Rose. Ask Shervin Pishevar. Ask Airbnb. Ask countless others. He didn't get to where he is by being an idiot. He has gotten to where he is by being honest with his readers. Even if everyone doesn't always agree with him, he has been honest. And he's brought forth information that no one else has, even when it's probably not in his best interest to do so.

AOL may be on the verge of changing all of that.
Quello che AOL sta facendo di TechCrunch è semplice, sostituire Arrington con qualcuno di fiducia, per veicolare le loro news, senza interessarsi di come è nato e cresciuto, a dismisura, il blog, e qui MG è molto chiaro:
If AOL tries to bring in their own Editor-in-Chief to run TechCrunch, it will be a colossal fucking mistake. The old adage: "if it ain't broke, don't fix it" — if AOL throws out Mike and tries to install their own despot, it will be breaking it just so they can fix it. And they might not like the end result. It may run, but it will never purr with the precision at which we purr right now.
L'indipendenza di TechCrunch è in disussione, sia a livello di contenuti che di business vero e proprio, anche perchè la considerazione vera e propria del valore del blog sta nella qualità dei suoi contenuti, che con l'intercessione di AOL andrebbe a quel paese, con buona pace di lettori affezionati (sono uno di loro, persino il nome di questo blog è dedicato a TechCrunch).
AOL un anno fa aveva promesso indipendenza ed autonomia allo staff, a salvaguardia anche del business racchiuso in TechCrunch, ora le cose stanno cambiando repentinamente, e penso proprio che non sarà mai più tutto come prima.
Ed è di questo che Michael Arrington parla nell'update all'articolo di MG Siegler, qui.
La situazione è tesissima ma in qualche modo, era prevedibile.
Mi dispiace.