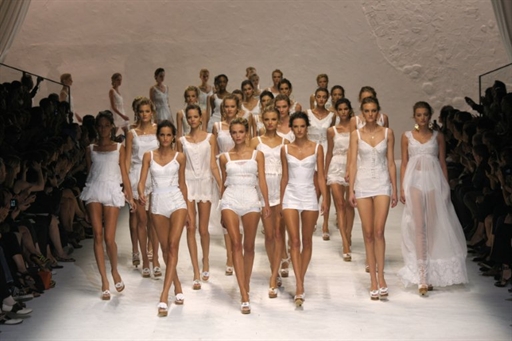 Il 10 ed 11 Giugno a Milano prende il via il Fashioncamp, uno dei barcamp più attesi! Fashion geek Victim e non, tocca a voi!
Dove e quando?
Milano, Spazio A ex Ansaldo, Via Tortona 54 – Venerdì 10 e Sabato 11 Giugno 2011
Il FashionCamp non è soltanto un'agorà di confronto sulla moda, ma uno spazio dove si realizzano manufatti. Crediamo fermamente nel tao del fare, nel recupero dell'artigianato di valore come momento ludico e artistico capace di rigenerare, non solo il Made in Italy , ma il nostro spirito.
Da non perdere!
Digital Influence. From Couture to Conversation.
Venerdì 10 giugno dalle ore 9.30 a.m. all'interno di FashionCamp si terrà il convegno 'Digital Influence. From Couture to Conversation'.
I media digitali hanno rivoluzionato per sempre il mondo della moda: l'e-commerce continua a crescere e il passaparola e la relazione con le griffe corre sui social media come Facebook e Twitter, mentre i fashion blogger decretano vincitori e sconfitti, i
nuovi must have e i marchi da dimenticare. Il convegno di FashionCamp racconta le nuove sfide della moda digitale attraverso le esperienze dei protagonisti.
Organizzato e coordinato da Jarvis Macchi, Direttore editoriale di Luxrevolution.com (Gruppo La Stampa), sarà l'appuntamento più istituzionale di FashionCamp. Ingresso libero.
Interverranno:
Manfredi Ricca – Business Director Interbrand Italia
Paolo Iabichino – Direttore creativo in Ogilvy
Antonella Bolognesi – Business development manager Cisco
Giulio Finzi – Segretario Generale di Netcomm
Jacques-Antoine Granjon – Fondatore vente-privee.com
Michela Ornati – Consulente marketing e ideatrice del libro Oltre il CRM. La customer experience nell'era digitale.
Monica Gagliardi – Responsabile Loyalty Process at Gruppo Coin
Loredana Addimando – Dipartimento di Psicologia Università Bicocca di Milano
Eugenia Burchi – Account manager & social media analyst BlogMeter
Bruno Nardelli – Amministratore Delegato Nardelli Luxury
Giorgio Marandola – Digital Marketing Manager IDEOLO
Davide Burchiellaro – Vicedirettore Marie Claire (Hachette Rusconi)
Carla Gozzi – Conduttrice di Ma come ti vesti? (Discovery Real Time)
Simona Tedesco – Direttore LeiWeb.it
Mirko Pallera – Direttore Ninja Marketing
Domitilla Ferrari – Social Media Strategist
Iacopo Gori – Caporedattore Corriere TV
Arianna Chieli – Art Director FashionCamp