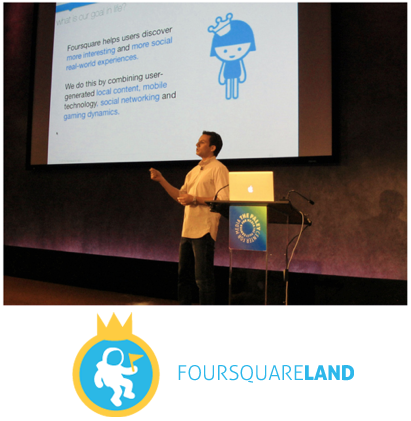 Dopo la bella esperienza dello scorso 4SQDay che ha visto più di 260 persone ritrovarsi a Milano per festeggiare il compleanno di foursquare, ecco un'altra opportunità per noi, geolocal-addicted e non, di trascorrere una serata insieme e scambiare qualche opinione con chi foursquare lo vive ogni giorno dall'interno.
Il prossimo 11 ottobre, Charles Birnbaum, foursquare Manager of Business Development in visita a Milano, incontrerà gli appassionati della più famosa applicazione di geolocalizzazione presso la sede di Y&R Brands in Via Tortona, 37.
Sarà un'occasione unica per appassionati, aziende e stampa di parlare con una delle persone che con il loro lavoro hanno contribuito al successo di foursquare.
L'evento si terrà presso il Tweet Cafè a partire dalle ore 20. Il bar rimarrà a disposizione per tutta la durata dell'evento.
Registratevi subito così da darci la possibilità di organizzare al meglio il benvenuto per tutti voi.
Chi è Charles?
Charles è Manager of Business Development di Foursquare, dove si occupa di partnership strategiche e nel campo mobile.
Charles è stato uno dei primi ad unirsi al team di foursquare, nel maggio del 2010. Nella sua posizione, Charles ha il compito di aiutare i partner a cogliere le migliore opportunità che la "merchant platform" di foursquare offre ed è responsabile degli operatori mobili e delle relazioni internazionali in giro per il mondo.
Prima di lavorare per foursquare, Charles ha lavorato per sei anni nel campo degli investimenti finanziari, concentrandosi principalmente sui settori Tecnologia, Media e Telecomunicazioni.
Charles ha conseguito un MBA presso la Wharton School, un MA in International Studies dal Lauder Institute presso l'Università della Pennsylvania e una laurea in Storia presso la Northwestern University.
Cittadino di New York, Charles è tifoso degli Yankees e ama far finta di saper giocare a golf e parlare tedesco.
Foursquare incontra Milano
Ti potrebbe anche interessare: