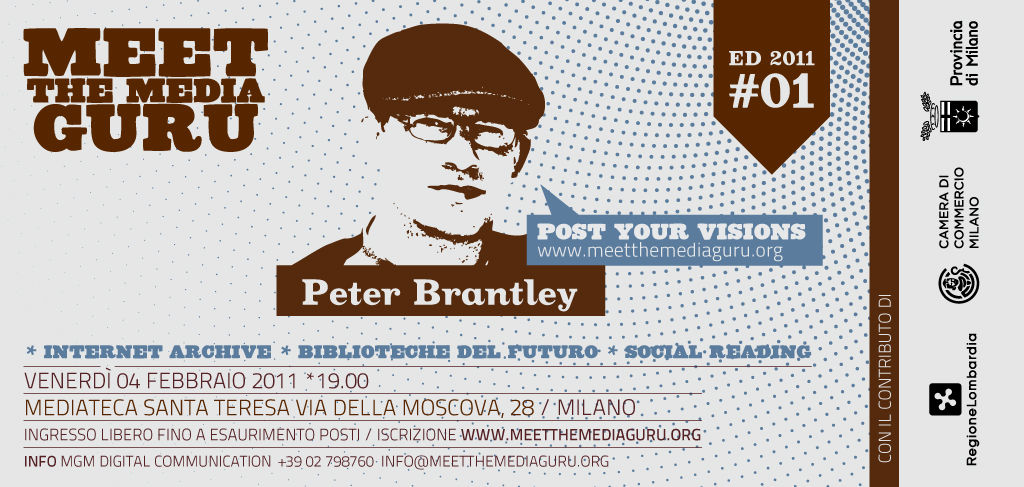 PETER BRANTLEY
04 : 02 : 2011 * 19.00
MEDIATECA SANTA TERESA
VIA DELLA MOSCOVA 28, MILANO
Inizia un nuovo ciclo di Meet the Media Guru e apriamo con una mossa ambiziosa: affrontare un vastissimo capitolo introduttivo che investe tutta la sfera del sapere, le sue modalità di produzione, di distribuzione, di fruizione e di conservazione.
Il primo guru del 2011 si chiama Peter Brantley ed è il Direttore del BookServer Project di Internet Archive, oltre che co-fondatore della Open Book Alliance.
Peter Brantley – in Mediateca il 4 febbraio ma anche con una prima parte a IfBookThen il giorno prima – è una delle voci più autorevoli del dibattito internazionale sul futuro dell'editoria e sulla trasformazione dei media.
Le aree che investiga vanno dalle trasformazioni del ruolo degli autori nel nuovo mondo digitale, ai cambiamenti della loro professione e dei loro diritti, dal destino prossimo della cultura tradizionalmente intesa alle caratteristiche dei nuovi "templi" del sapere condiviso.
Peter lavora da ormai molti anni sulle risposte a questi interrogativi e il prossimo incontro a Milano sarà un'occasione imperdibile per dipingere un quadro completo e dettagliato degli sviluppi più immediati relativi al modo stesso di essere della cultura nell'era digitale.
Intervengono Armando De Crinito, Direttore Università e Ricerca Regione Lombardia, Aurelio Aghemo, direttore Biblioteca Braidense di Milano, Maria Grazia Mattei, ideatrice Meet The Media Guru.
Meet The Media Guru: Peter Brantley
Ti potrebbe anche interessare: