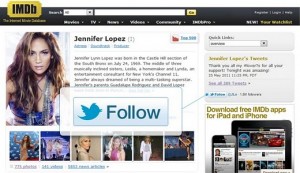 Today Twitter is launching the Follow Button, a new way to discover and instantly follow Twitter accounts directly from the websites you visit everyday.
More than 50 sites have added the Follow Button today, making it easy for you to discover the Twitter accounts of your favorite reporters, athletes, celebrities, and other personalities. Using the Follow Button is as simple as a single click. You can also see the profile and latest Tweets of the account you want to follow by clicking the username next to the Button.
For publishers and brands, adding the Follow Button to your website and using Twitter to stay connected with your audience is a powerful combination. People who follow your account are much more likely to retweet and engage with your Tweets, and to repeatedly visit your website. Adding the Follow Button to your website is quick and easy, and you can configure yours right now at twitter.com/followbutton.
Twitter: introducing the Follow Button